Purpose-driven marketing is found more and more these days, and consumers are given the option to support brands that give back and have an impact on the planet and community. These are our 5 favourite outdoor gear and apparel brands that give back.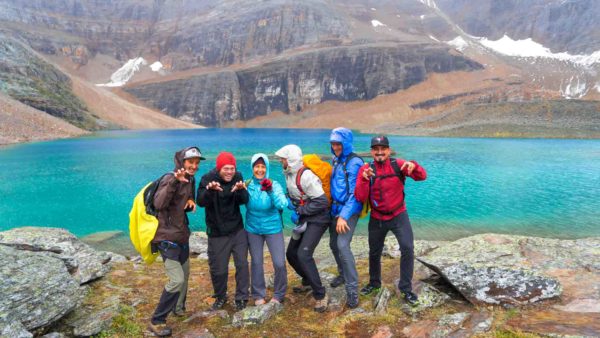 Who doesn't love llamas? Also, who doesn't love being warm and protected, while also having vibrant choices for all your travels and outdoor adventures?! Cotopaxi has you covered for men's and women's gear, tents, sleeping bags, backpacks, accessories and anything else you'd ever need for your leisure adventures, while providing products that make an impact. In addition to building relationships for sustainable and fair manufacturing of their goods, they've also befriended llama farmers in Bolivia for sourcing their insulation, while also building their brand around the animal known for its heart of gold and friendly nature.
In addition to their ethical product sourcing, Cotopaxi is a Certified B-Corp that has targeted social impact efforts in global poverty alleviation and given grants to advance health, education, and livelihoods in developing nations. Their 'Gear for Good' values progress them in the outdoor gear industry as a company that makes a difference while providing a quality product to their customers.
We all need to power our iPhones and other devices. While travelling, we need to do it sometimes when we don't have a power source. It's no secret that solar is sustainable, efficient and now affordable. WakaWaka makes portable batteries that charge themselves via solar and will take your smartphone from dead to 100% battery in two hours, while also providing multiple hours of light with built-in LEDs. What's even better – for every device sold, one is donated to a family in crisis or in need. You'll find a 'Share the Sun' sticker on a loose leaflet in the packaging. On that sticker is your personal Share the Sun Code, which you can fill in on www.waka-waka.com/give,  there you can choose from one of the three projects. You can view all WakaWaka projects at www.waka-waka.com/impact including their Solar for Syria project.  73% of families worldwide have a mobile device and charging it is sometimes a whole day mission to the next village and costs up to 10x more than it does to charge a phone in North America. Giving a WakaWaka Power+ device when buying one can change a family's  life and provide more opportunities to work and provide for the family by eliminating the need to charge their cell phone hours away.
Hammocks, blankets (perfect for festivals), men's apparel and more – Coalatree is a brand that manufactures their products through organic growing methods and recycled materials. Their mountain-chic gear is fit for the city or high-elevation adventures. Manufactured sustainably through fabrics sourced from Bluesign partnership mills (a textile sustainability NGO), Earthspun clothing (a process in which recycled bottles create fibres to sew shirts), and organic cotton from collaborative farms in India, Coalatree is changing the game with their threads. This brand is evolving and developing every day to contribute more to the planet and community with sustainability initiatives.
It's simple – 10 trees planted for every item purchased. This is the foundation the company was built upon and the model in which they've grown from ever since. Hoodies, shirts, tees, tanks, shorts, bags, hats and more – this is modern and stylish men's and women's apparel fit for the mountains or the city. tentree is a brand built around bettering the planet through purchasing power and providing socio-economic opportunities to those who need them.
Often times they will plant more than 10 trees per item to ensure that 10 trees survive and have an impact. They will educate the communities on sustainable practices and they'll ensure all of this is done to standard by partnering with different NGOs and non-profits. tentree manufactures all their products in WRAP approved factories (a strict textile certification program to ensure employee fair treatment, compensation and ethics through numerous audits). tentree's commitment in stewardship is socially and environmentally responsible through reforestation processes. They're transparent and inspire a generation to adopt a socially and environmentally responsible lifestyle through their industry-leading and pioneering business practice. This company is built on purpose-driven marketing and they're leading the way for apparel brands everywhere.
Shoes and bags fit for any occasion, Oliberté is handmade leather products from the world's first fair trade shoe company. Trade, not aid – this is the belief that Oliberté was founded upon and has built their brand to what it is now. All products are handmade in their Ethiopian factory and come with a lifetime guarantee. All products are sourced from one of the world's most sustainable leather tanneries that features a chemical recycling system found at no other tanneries in the world. The products are made from goat and cow leather and are ethically sourced in Ethiopia. In addition to sustainably manufacturing quality products, Oliberté is a member of 1% for the planet and a Certified B-Corp.
The company was founded in 2009, manufacturing footwear in Ethiopia and has since excelled to opening its own factory in Addis Ababa, Ethiopia in 2011. By teaching the trade of leather footwear and leatherwork manufacturing, Oliberté is able to provide full-time jobs for local people that sustains a livelihood for families and their children. Oliberté has complete ethical control over its company by owning their own factory. This allows them to have total control over the quality and manufacturing while creating sustainable full-time jobs supported by their customers and fans. Additionally, this also allows the Ethiopian team to create a workplace with prosperous and moral opportunities such as a workers' unions, fair breaks, full benefits, weekly doctor visits, workers' rights support, and contributions to the community.
Oliberté is a brand that manufactures shoes and bags fit for any urban or rural lifestyle and they provide free shipping for items over $99.
We all need clothes and gear – we love to travel and get outside, and let's he honest, we like to look good while doing it. Next time you're shopping for shoes, gear, or apparel, remember: "Every time you spend money, you're casting a vote for the kind of world you want."
― Anna Lappé
For full descriptions, links to purchase and connect with the brands, visit Eco Escape Travel's 'Gear' page and click the icons in the product descriptions.