Eco Escape Travel (EET) is an idea of mine that was formulated about two years after graduating from Tourism Management at Vancouver Island University. Shortly after my studies, I bought the domain for EET when the name came to me one day and I saw it was available. Fast-forward a few years later and fantastic experience gained in travel media, I knew it was time to execute on the idea and start to grow my business. Designing for the future means keeping up with a constantly changing media landscape that isn't going to slow down anytime soon.
Put some budget behind creating a brand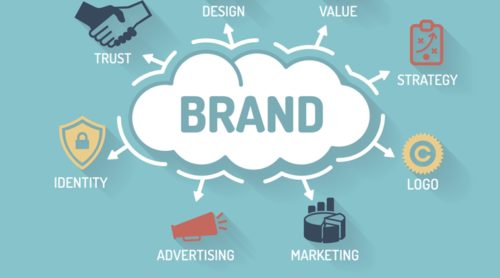 Blogs are everywhere now and there is literally a blog for everything – how are you going to stand out? How are you going to be different? After trying to create the EET website myself (and failing), I realized it was best to have the pro's build the website while I built the content. A friend introduced me to the owner of Calgary-based creative agency Blackwater Creative, and they nailed it. Find a company you trust, create a brand, create some authenticity and enter the industry as a professional – homemade blogs that look homemade will not cut it anymore. EET is a product of my experience and knowledge in the digital media industry as it relates to travel content. Through this, I steered the web developer at Blackwater to designing exactly the website I wanted and built a platform that no Squarespace or Wix could ever match. They created the logos, custom maps, eco-pillars, accompanying collateral and fonts, and in March 2017 we launched a digital platform that looks years ahead of other established travel websites and blogs.
Keep the bounce rate low & the UMV's high
The future of blog design lies in visually appealing content that catches the users' eye and engages them with not only the content they clicked through to the website for, but for all the content they might find. A low bounce rate is just as important as your Unique Monthly Visits (UMV's) – if users are coming to a website and leaving within minutes without being intrigued to discover more, the validity of your content is flawed.
Keeping up with visual trends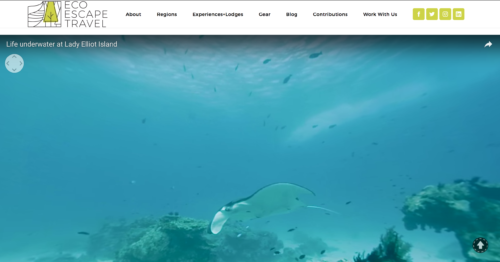 Homepage video, auto-playing video on posts, full-screen images with click-through descriptions, 360 video, centred text and custom fonts are just a few visual practices that EET uses to create a positive and captivating experience for the user. Just like when a customer enters a store or a fan enters the stadium, you have one chance to make a first impression when a user lands on your website, so make it a good one. EET incorporates all of the above, and a prime example can be seen in our Lady Elliot Island Eco-Resort post with the auto-playing 360 video or in our Isla de Caño, Costa Rica post. In all Experiences+Lodges posts, the user is also captivated with full-screen images (linking to the appropriate photographer if needed) and custom link icons on the bottom. On the backend, I can add appropriate pillars, experience type, and YouTube video links. With the videos, I can choose if I want:
Video autoplay
Video looped
Video info
Related videos
Video controls
Video mute
The future of blogging lies in staying relevant with the industry. Media channels like the New York Times and National Geographic utilize all of these content practices and can be seen in examples such as the New York Times' annual 52 Places to Go in 2017 and in Nat Geo Travel's annual Best of the World.

The future of blogging and its design should involve the community. This should be top of mind for blogs as this provides more chances for users to be engaged, and creates advocates of your brand and channel. As your channel grows, so will the following and the desire for guest bloggers and writers to create content for you. Community Contributions is a way that EET incorporates a call-out to build community, share awesome work going on in ecotourism, and advocate for sustainable travel. Incorporating community can be done in many different ways for different industries and niches – Community Contributions is how it works for EET.
Navigation & pop-ups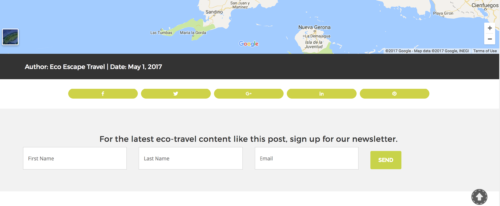 The last topic I'll discuss is an obvious one – navigation. Just like the first impression with content, your first impression for navigation should be a good one or the user will bounce on outa' there. This includes the annoying pop-ups to sign up for your newsletter or social media channels – for the number of times people actually click those icons or enter their email address, it's not worth the many others that you're annoying and devaluing your brand with. Add in a subtle call to action on the bottom of the post for newsletter sign ups and as always, have the social icons in a visible spot. If people want to follow you, they'll find you – no need to shove it in their face.
The future of successful blogging lies in those five topics – if I were to write this post again in a year, it would likely look pretty different than it does now but that is why we need to keep up with changing trends, social channels, and stay relevant. Start off by making a professional first impression and build your brand ethically.