Before we delve into the tips and tricks for road tripping and travelling Cuba, there are a few terms  we need to define:
Casas Particulares – Government regulated homestays, usually at someone's house and always with hot and cold water, air conditioning, a fridge, and decent beds in private rooms away from where the family lives.
Cubana Air – Extremely unreliable, but they'll get you there – eventually.
Cuisine – Despite what people say about Cuba, the food is incredible. In fact, it's some of the best we've ever had in Latin America. People who tell you otherwise have likely never left their all-inclusive resort. This is also the place to be if you enjoy fresh seafood.
Hitchhikers – Picking up hitchhikers is perfectly normal, respected and almost expected in Cuba because private cars are quite rare and consequently, everyone hitchhikes. Knowing a basic amount of Spanish will go a long way when communicating with your new friends.
Apps we use
See Best Apps for your road trip in any country post.
The Road Trip
Our maps.me app and Spotify plugged into the auxiliary, uncrowded paved roads, vintage cars passing by and windows rolled down taking in the fresh Caribbean air – this is road tripping one of the most beautiful and friendliest Latin countries on the Caribbean sea. Cuba is incredibly easy and economical to travel by car and modern technology makes it easy to find your way without a cell signal or wifi. We flew into Havana the night before after a very delayed flight from diving Isla de Juventud, picked up our car rental (details on rental company logistics below) from the airport (which was also delayed in typical Cuban fashion) and we were on our way! First stop – Viñales.
Since we were a group of three travelling together, we formed a 'collectivo' pot of money and paid for fuel and any other expenses out of our group fund. Getting gas was simple and hitting the road was incredibly easy. It wasn't long before we picked up our first hitchhiker, which is very typical for Cuba. A young lady who had just flown in from Bogota, he was overseas studying in Colombia and had just arrived home. I tried to make sense of why or how she was able to study in Colombia with my low-level Spanish and her thick Cuban accent.
It wasn't before long we stopped to get a ham sandwich (you'll have many ham sandwiches when road tripping Cuba as there is a lack of fast food, leaving this as the only grab-n-go food) and we dropped the lovely chica off and came to our turn off towards Viñales – and – another hitchhiker, this time a middle-aged gentleman who explained to us that the road was closed and we had to go another way. Having been to many foreign countries and in my fair share of sketchy situations, my first instinct was 'there is no sign the road is closed – why should we follow this man?' but then again there was three of us and one of him and he seemed very nice and informative with his guide map and what seemed to be a fantastic Casa Particular to spend our Viñales nights in. We exchanged conversation about Canada and our occupations with the gentleman while I translated for my friends.
Viñales
Before long, we arrived at the Casa our new friend had directed us to, Casa El Campesino and Paladar Restaurant. This countryside accommodation was in town yet next to the countryside and had a little pool and rooftop terrace with unspoilt views of the limestone mountain and countryside. Also, the perfect spot to bring speakers up to in the evening and enjoy some Cuba Libres. The restaurant was not the best, but in terms of accommodation with a good spot to enjoy the views, it was perfect.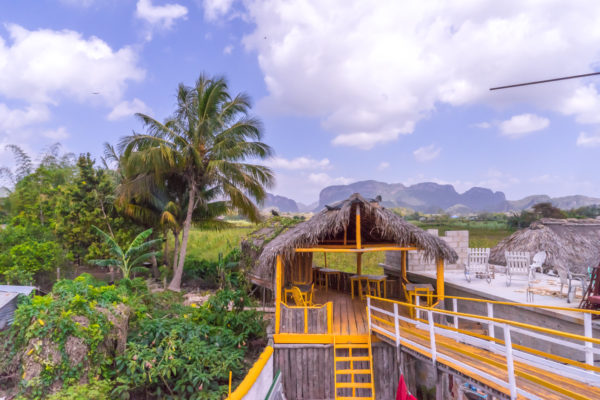 In addition to the Valle del Silencio which we go into detail about in this eco-post, we checked out the Mural de la Prehistoria, Gran Caverna de Santo Tomás, and the Cueva del Indio. We had an unfavourable experience at Gran Caverna de Santo Tomás – our guide was about 100 years old and moved at turtle speed. He was not very informative and seemed to not really want to be there. The tour was so slow we ended up leaving the group and went back to our car. Cueva del Indio on the other hand, was awesome – you cruise through the cave system by boat and end at a pretty decent souvenir shop and a sugarcane juice stand where you get fresh juice (and grind the sugar cane yourself).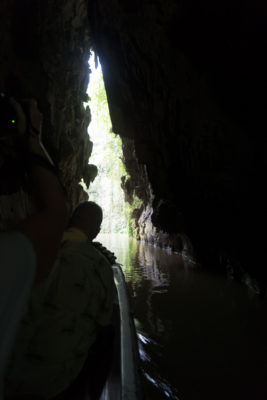 Bahía de Cochinos (Bay of Pigs)
After Viñales we explored and stayed overnight in Laz Terrazas (more info in the Laz Terrazas eco-post) and spent a couple nights in the eco-village there before continuing onto Bahía de Cochinos, also famously known as the Bay of Pigs. Probably our favourite seaside destination, the Bay of Pigs offered affordable beachfront accommodation. We stayed at a fantastic Casa directly beside the popular El Caribeño and got an ocean-facing room for the three of us with three beds for $35USD/night. Outside was a nice bar, a white sand beach and amazing food cooked right there at the Casa. We did one day of shore diving with Playa Larga Scuba Adventures, which was a less than favourable diving experience for the first dive in the ocean. It was a large group and the skill levels were all over the map. The second dive was in a nearby cenote and it was just the three of us + our guide which was better, but the equipment was outdated and the experience was fairly disorganised.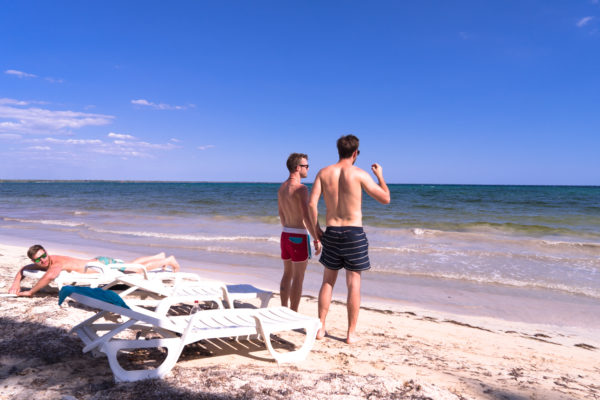 Trinidad
By this point, our trip left us with one night to spend in Trinidad before making the trip back to Varadero to fly out the next day. We arrived in Trinidad and explored the colonial city until the heat became unbearable. We explored the Museo Historico Municipal and ventured to the bell towers for the best view in Trinidad. We then hit up a few markets and shopped around before heading down to Playa Alcón to spend some time lounging in the sun. We definitely could have used more time in Trinidad but our trip was coming to an end and thus only allowed for one night. We found the BEST Casa in Trinidad that we highly recommend – Casa Dalia y Zerqueda is near the city centre and they'll give you the warmest welcome into their home. Dalia (or 'Mama' as we called her) is the sweetest lady who will welcome you into her Casa with open arms. This was our favourite Casa of the entire trip. Her house is complete with a rooftop terrace that overlooks the city and sunset at night, all for under $30US for the three of us. While in Cuba, we had heard rumours of the 'cave bar' and were determined to find out what it was – and we did. This subterranean club with three bars and five dancefloors was so incredible, it deserves its own post. Read about Disco Ayala here.
The Trinidad area is packed with things to do (including a steam train ride that I wanted to do so badly!) but we were running out of time and had to make the journey to Varadero to catch our plane the next day. Varadero isn't much to write home about in terms of authenticity – this is the resort capital of Cuba due to its stunning beaches. It served as our arrival and departure city for Cuba and after arriving, we took advantage of some beach time and a sunset before relaxing at our Casa with some rum on the balcony.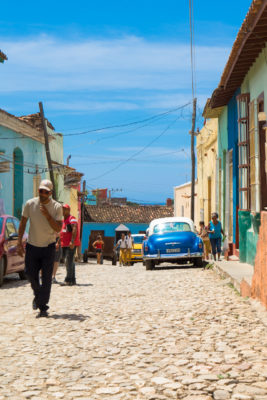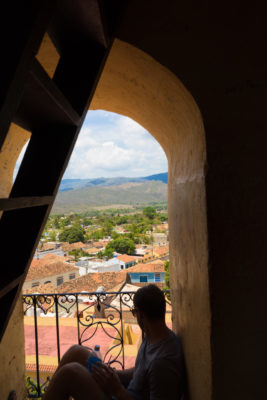 Renting a Car in Cuba (last minute)
We struggled with reliable car rentals at first, as we wanted to pick up our car in Havana and drop it off in Varadero. The key to successfully booking a car rental in Cuba is to do it at least two months in advance, but not to worry if you're running short on time. My friend and I were looking for rentals and eventually starting to get panicked, I booked a small car with Rex. The car was unpractical and had to be dropped off in Havana,  leaving us without transportation to Varadero. With only a few weeks before our departure, my friend booked an SUV through www.cubaexplora.com. It was a reliable new vehicle that fit our  drop-off location needs and picking it up was easy. (I cancelled the one with Rex and they refunded me about a month or two after.) We were a day late picking up our car due to our late flight to Havana from Isla de Juventud, so when we arrived at the airport the next day to get it, we had to wait while they brought a vehicle from a different location- but they eventually got us our rental . So do not panic if you need to book a car rental in Cuba last-minute. Going through an OTA (online travel agency) such as Cuba Explora was reliable and easy.
Taking out Cash in Cuba
ATMs will likely never accept your debit card – similar to how I always take out money while travelling, you must use your credit card. Put a positive balance on your card before you leave home and use this to take money out at various cash points. For more info on this, see our Tips for Taking out Money Abroad post. You will always use Cuban Convertible Pesos (CUCs), which are the tourism currency – but oddly enough, we noticed many locals using the currency too.
Using the Internet in Cuba
The internet is widely available in Cuba now. Every location we went to had a wifi centre that is a government regulated zone. Purchase a wifi minutes card from the vendor outside and away you go. In Havana, Hotel Libre is the spot for wifi. Everywhere else we went, they had a wifi vendor in a central location outside.